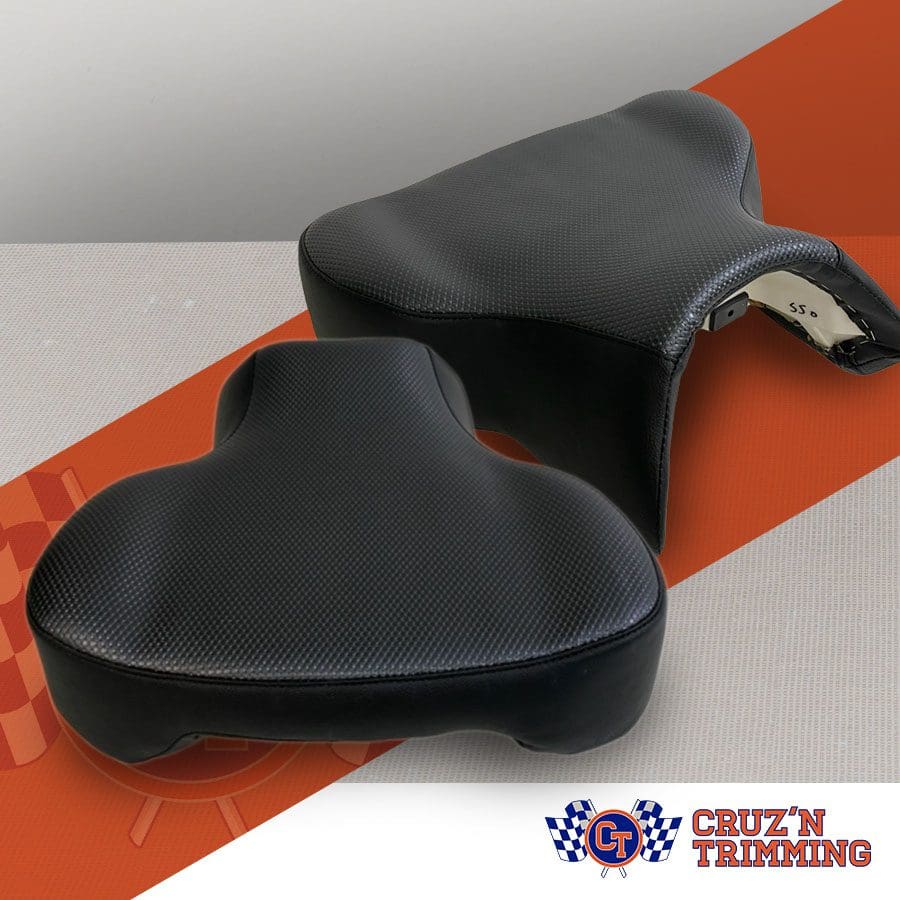 2012 Yamaha Super Tenere Custom Motorcycle Seat modified for long distance touring comfort
I've just done 3000kms and I don't feel anything; no vibrations, no bum pain, no issues at all thanks to my custom motorcycle seat!! Ian- Brisbane, QLD
Ian stopped into see us to give us an update on his motorcycle seat which Cruzn Trimming did for him back in November 2020.
Since then he has done approximately 15,000klms and he said that his custom seat is only improving with every ride he does.
Ian came to Cruzn Trimming with a special request. Ian does thousands of k's on his Yamaha Super Tenere and his motorcycle seat was extremely uncomfortable. His seat was too skinny and his bum cheeks hung over the outside edges of the seat and had no support!
It was taking him a week to get over a 2000k ride.
So we widened his seat 3 inches on both sides and used a higher density foam to give him the extra support he needed to do the miles comfortably
July 2021, 9 months later, stopping in on his way home from completing a 3000klm ride in: Brisbane to Eromanga, south to Cameron Corner via Noccundra and then back, the bike as you can see by the pictures has travelled some rough roads.
Ian's Super Tenere, has all the setup but the main things that he says has made all the difference and makes it possible to do the thousands of kilometres with no ill effects are the screen to reduce the wind buffer, extended foot controls, brought the bars forward and of course his custom motorcycle seat.
Thanks Ian for your business and enjoy your ride on your Cruzn Trimming seat
#custommotorcycleseats #customtrimming #bmwf900xrcustomtrimming #yamahaseats #yamahacustomseats #supertenere #motorcycleseats #motorcycleseats #cruzntrimming #cruznrides #luvyarides #shareyarides
Some of the long distance touring trips Ian has been on since he had his seat custom modified
To Discuss Options For Your Custom Motorcycle Seats